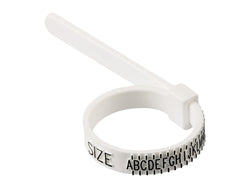 emmahedley
Free ring sizer
This multisizer works just like a belt, forming a ring and then placing over the finger, adjust it to give a comfortable fit, making sure you can still take it off over your knuckle! Then simply read off the size that the buckle reaches!
It could be useful to try it a couple of times throughout the day as your finger size can fluctuate depending on how warm your hands are. The most accurate size will be when your hands are at your normal temperature.
If you have any questions, feel free to drop us a message!
Specifications
UK Sizes A-Z