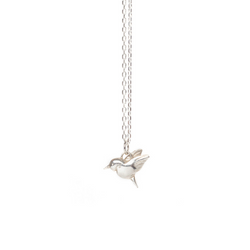 emmahedley
Little Hummingbird Pendant 18" Chain
This lovely little hummingbird necklace is the perfect gift for someone special, each one comes gift wrapped with an illustrated card describing the meaning behind the hummingbird. Wear it as a little reminder to embrace the sweetness of life. Emma hand made the birds using a 2 part putty called Milliput, then carved into it as it hardened to add the detail. A mold was then made and they are cast in silver and hand finished.
Specifications
Made from sterling silver
18" sterling silver trace chain
Prices for solid gold available on request.
Little hummingbird measures: 12mm x 15mm x 5mm
Lovingly gift wrapped in our vegan suede, recycled ocean plastic jewellery pouches!
Processing times & returns
Our processing times are up to two weeks on silver items as everything is made to order. Gold plated items can take up to four weeks, however if it's a gift and you need it by a particular deadline, just state the deadline in the notes section when you check out!
Please see our returns and exchanges page for more details.